---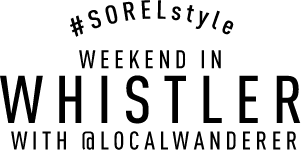 We headed to Whistler with travel bloggers Elaine and Taylor of Local Wanderer. Here are some highlights from the trip and their SOREL must-haves. 
FAVORITE HANGOUTS
It's an amazing view of from under the Cambie Bridge in Vancouver, and perfect for winter picnics with Joanie.
 
CITY HOTSPOTS
Elaine visits city hotspots in the stylish and comfortable Addington Mule.

 
BREATHTAKING VIEWS
No matter where she wanders, Taylor is surefooted and toasty in 1964 Cozy.

LAIDBACK STYLE
Chilling is easy at Joffre Lakes in warm and waterproof Slimpack Lace.
 
WARM WANDERINGS
Enjoying the sights in snug, winter-ready Joan of Arctic boots and Joan of Arctic Parka.